John Fannell - Comedian – Funny Motivational Speaker
John Fannell spent a career in the customer service division of a Fortune 500 company. When he was not asleep at his desk, surfing the internet or redecorating his cube with shag carpet, he actually searched for ways to provide excellent service to his customers. Along the way he wrote and presented programs on customer service and good faith business practices. On nights and weekends, he hit the comedy circuit from Minot, North Dakota to Little Rock, Arkansas to Corpus Christi, Texas (because anyone can get discovered in LA or New York – what is the challenge in that?). Eventually he worked with some of the biggest names in the business including Loretta Lynn, B. B. King, Randy Travis, Weird Al Yankovic, Rodney Carrington and Larry the Cable Guy… to name a few.
Today John entertains and motivates for all types of audiences including companies, associations and others. His presentations will leave you happier, temporarily stress free and not as inclined to jump off a high building. Also, you'll be much better company for your pets. Now what could be better than that?
Satisfied Customers Include: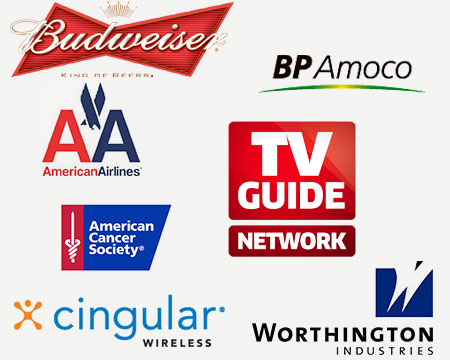 What We Do:
Standup Comedy Show
Funny Motivational Speaking
Speaking Venues:

Association Conventions
Trade Shows
User's Conferences
Sales Seminars
Continuing Education Seminars
Employee Development Seminars
Corporate Entertainment Events
University Entertainment Events
Comedy Shows – Theatre Shows
"All our guests thoroughly enjoyed his comedy and found it very appropriate for corporate affairs. I would highly recommend him to others."–Glenn Phillips, American Airlines
"A nice touch John added was tailoring some of his material around our company and staff. You will thoroughly enjoy John's work."–Beverly Blevins, Sclumberger
"John was an exact fit for our company function… We could not hesitate to recommend him to others."–Tonyua Vore, State Farm Insurance